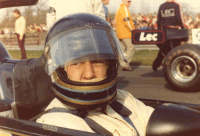 Brian was born on December 13th 1945 in Melbourne where he later became a motor trader. He first went to Europe in 1966 and he quickley built up a motor business in order to finance his first love, motor racing. In 1969 he purchased a Formula Ford Merlyn with which he won his first ever race at Lydden Hill. He continued with FF cars until 1971, when he moved into Formula 3 as a founder member of the Australian International Racing Org. (AIRO) with Allan McCully and Alan Jones. Using Brabhams, Brian had some good F3 runs in 1971 and 1972.
He then decided to take a break from racing, spending the next 18 months building up the thriving Windmill Motor Caravan business in Brentford, before returning with a Trojan T1O1 to contest the Rothmans Formula 5000 Series in 1974. The Trojan however was not ultra competitive, so Brian replaced it with an orange Lola T332 which proved more successful. For the 1975 season the T332 gave way to Bob Evans's 1974 championship winning T332, and it was with this car that Brian became a consistent front runner.
With the 1976 championship approaching, McGuire bought an old Frank Williams FWO4 chassis and campaigned this car throughout the season. In the first year of the Group 8 championship, Brian showed his competence and found renewed vigour when Kelly Girl stepped in with some much needed financial assistence for the team. The Williams was repainted in the vivid green livery of its new sponsers and as if to celebrate this, Brian totally dominated the Thruxton meeting September 1976, starting from Pole and winning by a handsome margin. At Thruxton, in the wet, there were few who weren't aware that it was the first time a Williams had ever won a race.
It was in this car that Brian was tragically killed, a Shellsport International meeting, during practice for the Gp8 Race, held at Brands Hatch on Monday 29th August 1977. It was a practice run that he need never have taken. It ended when his Formula 1 car plunged off the track and also killed a Fire Marshall. It was believed that the failure of a locating bolt from the pedal assembly was the cause of the accident.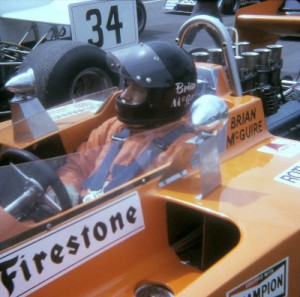 Brian McGuire was a true Sportsman and a gentleman, a driver who raced purely for personal enjoyment.
Cars that Brian owned during my time as his mechanic:
Trojan T1O1
Lola T332 HU40
Lola T332 HU36 ex Bob Evans
FWO4 F1
Photo Gallery