Personal Profile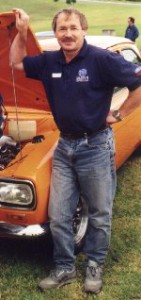 In 1968 I started as an Apprentice mechanic for Brian Skudder Motors in Whangarei, New Zealand, who was very involved in Motorsport, where I got to work on all sorts of weird and wonderful racing cars going back to the 50's. As an apprentice I worked on a V8 Mk1 Zephyr to a Cooper 500.
I was involved in preparing and servicing Mk1 and Mk2 Pi Triumphs for Neill Johns, which basically got me involved in Motorsport. I built up a 1600 Anglia in which I competed in Hill climbs , Club circuits and one Rally in 1973.
In October 1973 I sold everything I had and went on my big OE with my fiancee Jill, to England. My first job in England was with Vandervall Products in the Engine Test Dept. I started working for Australian racing driver Brian McGuire in Easter 1974, when I did my first Race meeting with him, helping his mechanic. After that meeting I was offered a full time job as one of his race mechanics. While I was working for Brian, I went as a mechanic to a one-off 6 hour Sports Car Race on the DFV Gulf Mirages for Watson, Price, Ganley and Schenken at Nurburgring, Germany. I worked for Brian on his race car and also in his Motor Caravan Business until his fatal accident at Brands Hatch in 1977.
In October 1977, Don Fenwick and myself built up a brand new Group 1, RS2000 for NZ Rally driver, Alan Carter to run in the 1977 RAC Rally of Great Britain, for which I and several other Nzer's serviced for him. After the 77 RAC, I had a break from Motorsport and continued working in the Motor Caravan business that Brian McGuire had started. Later in 1978, Alan Carter came to work for the Motor Caravan business, which also sponsored his RS2000, for which I prepared and ran in Rallies in England, Ireland and the Isle of Man during 1978 and 1979.
I continued working for the Motor Caravan business until we returned to NZ with my family in 1980. After 2 weeks back in NZ I went into Partnership with my father and bought an Automotive Wrecking and Parts business. I decided to get back into Motorsport again and built up a Gp2 RS2000 Escort that I rallied for several years until I tried to push a pine tree over. After repairing the car I sold it and breaking away from Motorsport again I bought a Game fishing boat that we enjoyed for 6 years. In the last year of owning the Game fishing boat we bought a NZ new MK1 Lotus Cortina, then followed by a 1970 Twin Cam Escort.
I sold the Parts business in 1998 and rekindled my interest in Motorsport again doing Club events in a second 1970 Mk1 Escort Twin Cam. Now my wife Jill and I have bought another business, Whau Valley Motors. I have since then bought two more Rally cars, a Mk1 Escort which was originally built as a 1700 BDA but now runs a 2 Litre OHC, quaife gearbox etc. I use this car mainly for gravel events. My other Rally car is a NZ built RS1800 which was built from a brand new road car in 1975. Jill and I competed in the 2002 Targa Rally of NZ using the MK2.
See the download section for a history of the Mike Marshall RS1600 Woolmark Escort that I am currently restoring.
Since selling my Automotive Garage in 2006 I have had alot of timeout from fulltime work and dedicated my spare time to finishing DGU888H. I currently work part-time and the rest is spent in the garage putting the Escort together. I can now finally say that 'there is light at the end of the tunnel' and can see that day fast approaching when I start DGU's engine. I will keep you posted………… We are now into December 2011.
The restoration is going really well. The hard work is finally starting to pay off. This month, Dec 2011 I took DGU for her first long test run to check out all the electricals etc were working properly. She even caught the eye of a patrolling Policeman who just had to take a closer look because of the english no. plates. He was very nice and understood the need for me to have the car on the road for these checks.
We are well into May 2012 and have already driven DGU888H quite forcefully for her first event. It was the first time since the resto finished that I had been able to spin the wheels so worked out great to be invited to the Leadfoot festival 2012/ 2013 and also competed in our annual Ruakaka Street Sprint.  Jill & I enjoyed these events tremendously and we are looking forward to another event that we can partake of that would be suitable for us.
Where Am I Located?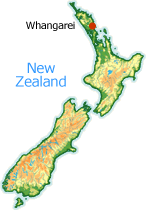 My wife and I live in Whangarei, New Zealand.