Jill and I first went to England for our Big OE in October 1973. We originally were only going for a couple of years, as I was very keen on seeing and buying the brand new MK1 Escort RS2000. It had always been a dream of mine, to own one and this is basically the reason for us travelling to England. We arrived in London and we were staying in Earls Court not far from where the Motor show happened to be on. Our first port of call was obviously the Show where I was able to drool over and dream about owning that car.
Unfortunately that didn't happen and our trip took us on new horizons.
We had a contact in London by the name of John Weston, whom was quite well known in the motor racing scene in NZ. John and his wife Patsy invited us to stay with them to share their accommodation at Bourne End in Buckinghamshire. We then moved to another house with John and Patsy in nearby, Marlow. After working at a Toyota franchise for a short while I was looking for other work and heard about this Australian F5000 Racing driver in Bourne End. I went to see him, his name was Brian McGuire and he raced a Trojan T1O1. I went and saw the mechanic the next day at MRE where he worked on the car and it was decided that I would travel up with them to Oulton Park for a race the next day to see how things went. I had a marvelous time and was also offered the job working full time as one of Brian's mechanics.
The car was damaged some weeks later by Brian's business partner, testing at Silverstone.
After that car had been repaired, Irish driver Damien McGee hired it to drive in the Dublin Grand Prix 1974. I delivered the car to Ireland and was Damien's mechanic for the racing. Brian decided to buy a brand new Lola T332 HU40. In May I went up to the Lola factory in Huntington and built that car up. That was the orange Lola. We raced in England, Italy, Zolder (Belgium) and Zandvort (Holland).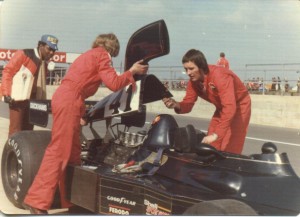 In January 1975 I went into London and spent day talking with Brian about the new car he was thinking of buying. That was Bob Evans's Championship winning car of 1974, a Lola T332 HU36. Brian bought the car and it was used in 1975 until it was extensively damaged at Mallory Park. The car was repaired with a 2nd hand chassis. While being repaired and then sold, Brian then bought the Formula 1 Williams FW04. Brian had a lot of success in this car. His proudest moment was when he started on Pole position at Thruxton, Thursday, September 16th 1976, in the wet and was the first full F1 car to win a Shellsport Gp8 round. It was also the first time a Frank Williams car had ever won a race.
Brian was not only my boss he was also a really good friend. We had many fun times as well as work. Brian was a great prankster and was always doing incredibly bizzare and funny things. He enjoyed life to the full. It was one of the most terrible days of my life the day Brian was killed at Brands Hatch, 29th August 1977, doing what he loved most. I don't think I will ever forget that day. It was the end of an incredible era for me. I went to England to buy a car and ended up working on a Formula 1 Racing car for a well known Australian driver and travelled around the racing circuits of Europe.
My racing focus changed after Brian's death and I no longer pursued single seater racing. Instead I had the opportunity with the help of fellow Nzer Don Fenwick, of building up a brand new Mk2 Escort RS2000 into a Rally car for well known NZ Rally driver, Alan Carter. He had arrived in England to pursue his Rally career and compete in the Lombard RAC Rally of Great Britain, 1977. After purchasing the brand new RS2000 we had just 3 weeks to prepare it and turn it into a Rally car ready for the start of the RAC. Alan managed to secure a sponsorship deal from Kentucky Fried Chicken, and the car was painted in its new livery.
Alan with his co- driver Adrienne Fenwick, finished in a credible 29th position overall and third overall in the privately entered cars. Only 70 out of the original 180 entries managed to finish the grueling event. For further Rallies the car was then sponsored by Apex Leisure Hire.
When Jill and I returned to New Zealand in 1980, I concentrated on building up my business, then in 1985 decided to build up my own Rally car once again, as it was some years since I had competed and Rallied in New Zealand in a 1600cc Anglia.
This time I built up a Mk2 Escort RS2000 replica. With Wayne Churton as my co-driver I contested the Woolf Muffler Rally series with quite a lot of success.